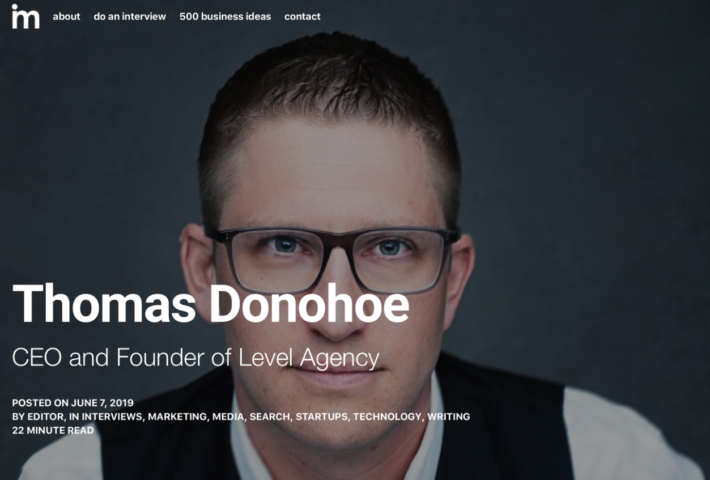 Thomas Donohoe is the CEO and Founder of Level Agency. Donohoe is a digital marketer with over two decades of experience creating, executing and managing digital strategies to drive results for B2B clients. Thomas is a member of YPO, Young Entrepreneurs Council, and he is a Founding Member of EO Charleston. His award-winning agency is the recipient of the Top 10 Digital Marketing Agency in the Region, INC 500, Diamond Award for Outstanding CEO's, Ernst & Young Entrepreneur of the Year Award, and #1 Fastest Growing Company in the Region by Pittsburgh Times "Pittsburgh 100."
Where did the idea for Level Agency come from?
I worked for a decade on the client side as a marketer whose main job was to spend millions of dollars in order to drive more customers at good acquisition costs. I hired the biggest and best ad agencies in America. I witnessed firsthand these giant agencies having massive problems with either the quality of their work or the depth of which they would own results and offer all essential pieces to a very complex ad channel ecosystem.
So I started the agency I wanted to work with when I was the client.
The idea was that there was a massive need for an agency that treated digital advertising as an advanced science to perfect as opposed to an extension of old school marketing. At the time, I knew it would be essential for a marketing firm to do more than a handful of tactics that are required to solve the whole equation of digital customer generation, instead of only one small component of it. Today, that model has proven itself to be 100% true.
B2B companies ranging in revenue from $5,000,000 to $500,000,000 continue to be underserved by global advertising agencies. Often times, you need to hire 6 of their incredibly expensive divisions to get a cohesive best practice digital marketing team ready to battle in the 21st Century.